MUD AND WOMAN AT IOWA
This past summer one of our juniors, Braiden Voss, tore his way up and down the state of Iowa in search of criterium glory, upgrade points, and a decent cheeseburger. A few short months later, and just when all the Iowa racers could pretend again that they'd never heard of Michigan, we sent in the second wave of our invasion.
We sent in Val Hyrman.
While most of us are busy obsessing with how much sand there is on the Iceman course (hint: it's a lot), Val has been tearing up the cyclocross circuit this fall. Think you're tough because you rolled out of bed and made it to a race an hour or two's drive from Traverse City? Weekend before last Val was racing cyclocross IN WISCONSIN. This past weekend, equipped with a specially rented F-150 truck and what we can only hope was an 8 track filled with classic Johnny Cash, it was Iowa.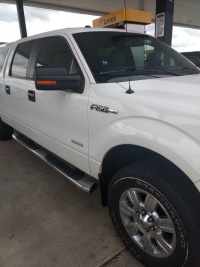 The truck is real.
More specifically, it was the 15th edition of the UCI Jingle Cross Cyclo-Cross Festival, featuring the Telenet UCI Cyclo-Cross World Cup. There's a lot in that title, let us break it down for you.
First, the UCI: the Union Cycliste Internationale, which is the international governing body of the sport of cycling. As you can probably tell from the name, they are based in Europe. Switzerland, to be exact.
Second, the World Cup: like the World Championships except that it is not, that's an entirely different race and yes, we hear Val may go to that too. The World Cup is a series of races held all over the globe, and the world's best cyclocross racers travel from race to race, riding the circuit and gathering points. Kind of like the young lawyer Abraham Lincoln used to ride the circuit with the judge and his opposing counsel trying one case after another, except in the World Cup the racers (mostly) don't all sleep in the same bed every night.
Third, Jingle Cross: yes, the Halloween decorations are just going up, and already someone is bringing on the Christmas theme. Why does there always have to be that one house in the neighborhood, you know? I mean not even Michaels is set up for the holidays yet. Would it kill you guys to wait till at least November to light up the green and red lights and put up the tree? No, we don't understand the name Jingle Cross for a race in early October either. But it's cyclocross, and it's the World Cup, so really why worry about it.
Fourth, Telenet: they are really, really big in the world of broadband. In Belgium and Flanders. Which we are told most Americans (outside of those in Canada and Mexico) cannot find on a map. But people are NUTS for cycling in Belgium and Flanders; every weekend they go to eat sausage and drink beer and watch a bike race like you or I might expect to listen to a ball game on the radio and – well, drink beer at least. And if those folks are nuts for cycling in general, they are absolutely rabid about cyclocross. Anyone in Belgium and Flanders who can't fly to the see the World Cup in Iowa, was watching it on TV at home – on cable provided by Telenet.
Fifth, Iowa: how can you tell you are at a race in Iowa? Well, the first clue is that part of the event is called "The Jingle Cross Music Festival featuring the Pork Tornadoes." For the second clue, look closely at the sign on this bike wash station: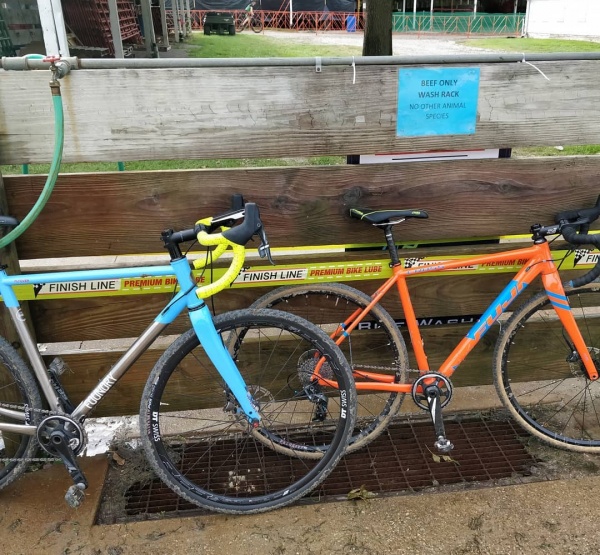 Yup. Iowa.
Sixth, this is billed as both the Jingle Cross Cyclocross Festival and the World Cup. It was the Jingle Cross first, and it became such a major badass race in the world of North American 'cross – drawing in the elite racers from all over – the World Cup had to follow. Meaning, in terms of the level of competition that gets drawn to this event, Jingle Cross was already at an 11. Adding the World Cup just took it up to a 15.
So into this milieu arrives Val, ready for 3 days of battle with her competitors. At the end of it, what do you think stood out as memorable? Was it the level of competition? The Pork Tornadoes? The sausage? The beer?
No. What was most memorable about Iowa was the mud.
Not just any mud. Deep, thick, primordial, squishy, gooey mud. The sort that clogs derailleurs, eats drivetrains and claims shoes. The kind that makes you truly appreciate the difference between a 2.2" and a 35cc tire. Iowa mud, in other words, of the sort that only the Pork Tornadoes and fat bikers could ever truly love.
At times Val got to actually ride her bike, which looked something like this: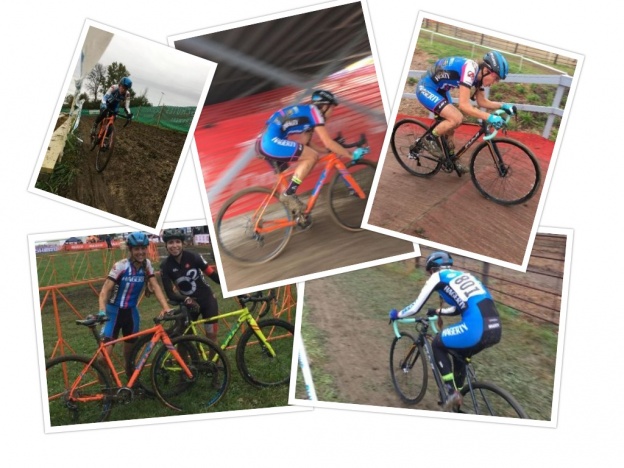 But much of the time, often on the dreaded Mt. Krumpit, her race looked like this: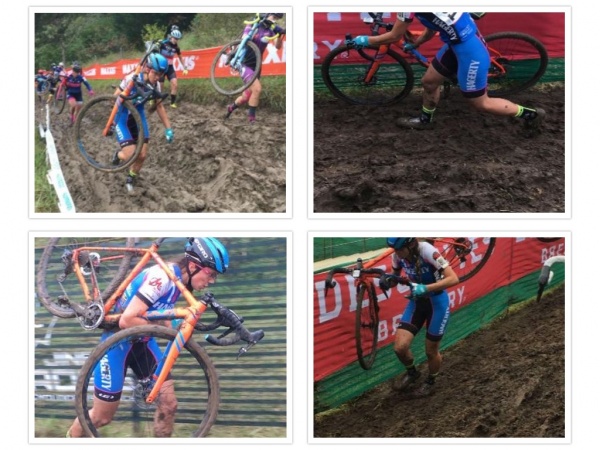 In short: a running race in the mud, punctuated with periodic bouts of bike riding. Ponder THIS next time you complain about how dry it is out on the Iceman course!
Conditions were so tough, Val at one point had to ride her backup pit bike – her regular bike simply refused to shift any longer. (Oh, so you thought you were ever so cool having a spare wheelset at a race? Well, cyclocross is so tough you need to have an entire spare BIKE on hand).
But, our teammate and reigning 'cross queen nevertheless did what she does best: she persevered, and ultimately claimed 7th in her first race, and 5th in her next two!
Congrats, Val! You not only raced, you went the distance to find the toughest race, in the toughest conditions, against the toughest racers, and you still came out of it well.
(No word at press time if Val got to meet the Pork Tornadoes, or if she retained both shoes; last we heard she has been busy cleaning the mud out of her ears).
#hagertycycling #ladyhags #hagertydoescross