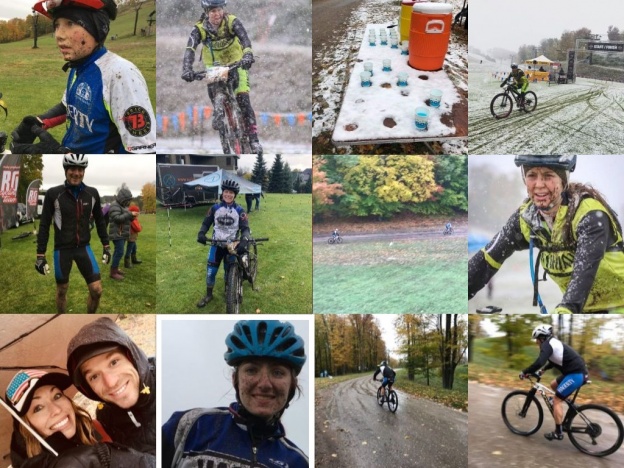 Peak2Peak 2018: Welcome to the New Drivetrain Club!!
This reporter spends most of his time on a road bike but normally the Peak2Peak Mountain Bike Classic, held at Crystal Mountain in Thompsonville every fall, is one of my favorite places to race a mountain bike. The single track trails are usually wicked fast and not terribly technical, there's a major climb up the backside of the mountain where working on your cardiovascular fitness all summer can really pay off, and the course features THE best descent in the state. Plus it is super spectator friendly and there is still enough color on the trees to make for a beautiful setting for a bike race; it usually could not be a more bucolic setting unless they somehow plunked a cider mill into the middle of the course.
But every few years Peak2Peak is not such a nice place to race bikes, because Mother Nature likes to remind us every once in a while that in northern Michigan that She is in charge. Forever imprinted on everyone's memory is the 2012 race, which saw torrential downpours and the race being shortened because everyone's brakes stopped working. For all the course's high points, the one thing it simply does not do is shed water, especially in the sections along the Betsie River. Even after a long stretch of dry weather, there are always a handful of mud pits back there as if to remind us that the ribbons of fast trails are always an instant away from turning into a completely different kind of course.
And that is exactly what Mother Nature decided to bring us for 2018, as Saturday saw rain and then snow and then rain and snow, causing racers to contend with not only endless acres of mud but bone-numbing cold temperatures as well.
Many folks who'd planned to race decided to bail, and those who did race did so with a sort of stoic resignation that should not be confused with enthusiasm. Really the only group that liked what they saw on the weather radar were the bike shop owners, who immediately started calling their mechanics in to work and ordering parts for what was sure to become a wave of new drive train and brake installations come Sunday and Monday.
Actually there was one rider who did actually enjoy herself out there: Hagerty Cycling Junior Emma Schwab. The worse the weather is, the greater the technical challenge, the more Emma seems to like it and the faster she rides her bike. Look at her picture, she's BEAMING! Some folks might remember her winning a criterium race this summer, in the pouring rain, after never having raced such an event before. Or the fact that she loves to ride the rock garden at mountain bike nationals. Saturday was more of the same: Emma rode away to become the 1st overall woman finisher in the Expert category, turning in a time that was actually faster than all but one of the women's Pro field!
Speaking of the Pro field, also joining the New Drivetrain Club were Hagerty Cycling's Bridgett Woodrig and Garrett Jenema. Bridgett, who somewhat dryly notes that "Mother nature decided to make things interesting," initially got caught behind a slower group; "I decided to move up early in a somewhat less muddy single track and gun it to see if the group broke – and it had. The rest of the race I just passed all but one of the women who had been ahead of me." That she did, earning 2nd Place in the Pro/Elite Women!
Garrett, only freshly graduated from the ranks of the juniors, commented afterward that the Pro men's fast start left him in a less than ideal position going into the first section of single track but he was able to get around some people after the first lap and caught on with a good group. "In the last climb I caught two other riders, also the mud was insane!" Ultimately Garrett claimed 8th overall in the men's Pro/Elite race.
Over in the Beginner's race, young Griffin Schwab – who liked the conditions decidedly less than his older sister – scorched it to a 2nd age group finish in the Men 12-19 category. Hopefully feeling will return to his fingers real soon. And, though he is not one of our juniors, we have to mention that the ever-elusive free agent Liam Wierzba, racing for our sponsor Sutton's Bay Bikes, came in 2nd in the 11 & Under race!
In Sport class, Kyle Siemer came off a long break after finishing a long triathlon season at TC Tri in August and despite being unsure about his fitness, he wound up riding away to win the whole thing! Despite some initial disorientation over the fact that his mountain bike did not have aero bars, he quickly recovered and found himself in a group of 5 vying for position right from the gun. "That group whittled down to about 3, and then one of the three slipped on a wet tree limb and went down , and from then on I was solo," Kyle explained. And racing solo is exactly what Kyle does best, and he quickly put in a commanding 3 minute lead.
"Course conditions had really deteriorated by the time my second lap started. My whole goal that lap was just not to crash," says Kyle. "Fortunately, and despite the conditions, 'yard sale Kyle" did not reappear and I was able to stay upright and away."
The Sport race also saw Hilary Johnson earn a 3rd age group finish in the Women 15-34 race, and junior Jake Auclair came in 7th in the Men 15-24 group! Yensen Schwab also gritted it out for 3rd place in the Men 44-46 race.
In the expert race junior wunderkind Max Meyer set a blistering pace, coming in 6th in the Men 18-34 race. Another of our junior racers, Ryan Miller, was just behind him in 8th. Ryan reports that during the climb up the mountain the mud was so bad, "my gears slipped and I had to stop and run a little. I was still able to chase almost back to the front group by the finish, so overall I was pretty satisfied with my race." Meanwhile Kyler Bradley earned himself a 9th place finish in the Men's Expert 18-34 race!
Finally, rumor has it that David Bucholtz and his tandem partner came in 4th in the tandem race!
Congratulations to everyone who braved P2P 2018, and best of luck to all of you in getting your bikes in and out of the shops with new drive trains in time for Iceman!