Bloomer Park & Lowell 50 Recaps!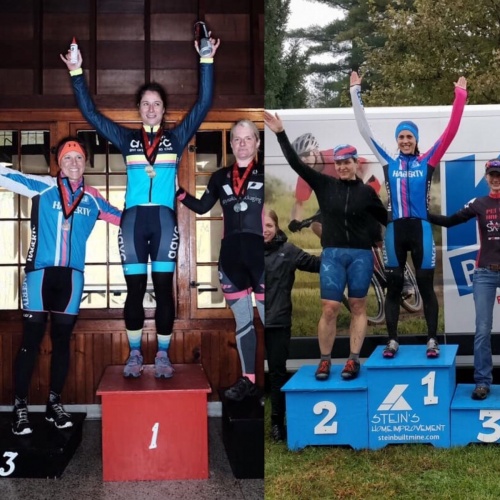 With just a week to go until Iceman, three of our teammates ventured down state this weekend to test out their race legs, and boy did they make the most of it!
Val Hyrman has been riding strong on the 'cross circuit all fall and found herself on the top step at Bloomer Park on Saturday! She made it into an early break with another rider for a couple laps, and then found herself solo after the other rider had a flat. Val put the hammer down and was able to stay away from the group! And not content with winning the women's race, Val also decided to race in the men's cat 3/4/5 race, where she placed last or not quite last depending on whether one counts the dudes who were DNF! The course featured a fast woods section that Val reports was reminiscent of Iceman, and rumor has it Hagerty's Queen of 'Cross just might be toeing the line in Kalkaska on Saturday.
Meanwhile over in Lowell, Marie Voss decided that the best way to jump back into racing after a 5 month break was to just jump right into the 50 mile race! Marie made the early selections to stay with the lead group, then burned some matches to stick with the chase group after a break got away. Finally popped off, she settled in for what she assumed would be a 35 mile time trial -- and after 12 miles of that she let another chase group catch up to her and then worked with them to the finish. In the end Marie got 3rd place overall in the women's 50 mile race, not too bad for her first race in so many months!
Our Lady Hags did not claim all the weekend glory, Master racer Hal "Big Dawg" Bevier raced the 33 mile event at Lowell and earned a 4th place age group finish!
Congrats to all!