ICEMAN 2018 RECAP!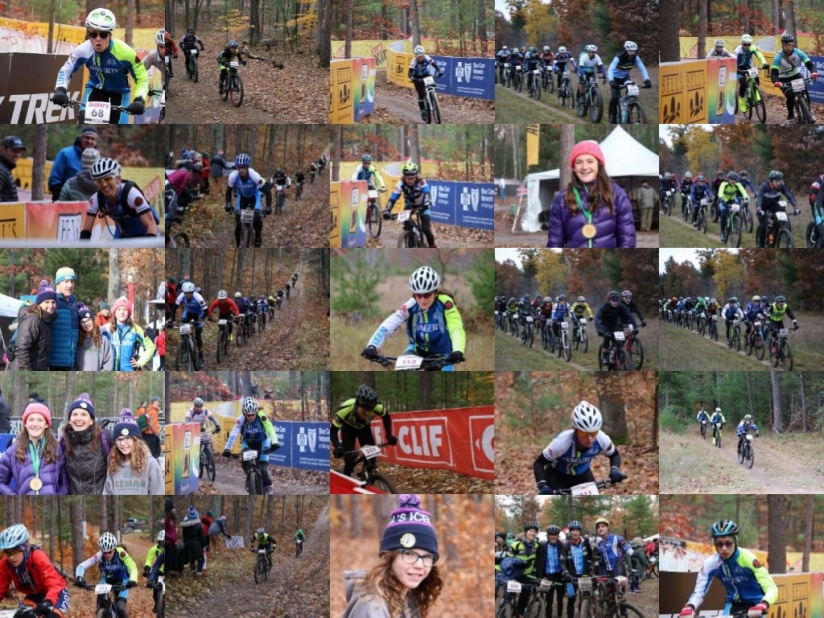 Saturday saw another great edition of the Iceman mountain bike race; the largest point to point mountain bike race in north America, it features over 5,000 amateur and Pro racers running the course from Kalkaska to Traverse City's Timber Ridge Resort. It's the traditional end to the Michigan race season and every year our team looks forward to competing.
With so many of our racers competing in Iceman it simply isn't possible to do every single rider's story justice, but here are a few highlights:
A total of 59 Hagerty Cycling Team members participated in the 2018 Iceman. Of these:
37 secured top 10 finishes in their respective age groups (including Garrett Jenema, Kris Klau, Andy Weir, Rob Goepfrich, Hal Bevier, Hilary Johnson, Brian Carps, Kathleen Kerr, Max Meyers, David Bucholtz and Todd Vigland);
25 were on their age group podium in the top 5 (including Ed Johnson, Larry Brownell, Sandra Dunn, Kyle Siemer, Jorja Jenema, and Ryan Miller),
19 were in the top 3 (including Barb Beauregard, Amie Elve, Val Hyrman, Griffin Schwab, Bent Wiersema, Ryan Kennedy, and Austin Johnson);and the following 11 won their age groups: Arielle Jean (Junior Women 15-16), Nick Wierzba (Men 37), Josh Zelinski (Men 39), Paul Olson (Men 52), Don Fedrigon (Men 60-64), Dan Hofstra (Mens 58-59), Emma Schwab (Women 19-24), Beth Collins (Women 60+), and Katie Campbell (Women's Slush Cup 17-18).
Susan Vigland and Bridgett Woodrig both secured top 10 finishes in the women's Pro race in the afternoon. In fact four local women were in the top 10 of that race, which is great reflection of the strength of the women racers in our local community.
Emma Schwab was not only first in her age group, but she was the second amateur woman across the line!​
We were all excited to see our junior Braiden Voss come back up north from boarding school to race in the men's Pro race! He finished 20th, with a time of 1:37:06 that would have easily won him the junior's race.
Val Hyrman proved that a chick can chick a chick on a mountain bike or a fat bike if the chick doing the chicking the other chick is riding a cyclocross bike! (Say that 10 times, really fast, without making a mistake!) That's right, Val raced Iceman 2018 on her cross bike; and though overall Iceman pro winner Geoff Kabush also sported drop bars, he was running mountain bike tires whereas Val was using her usual 33c tubulars. If you think it doesn't take skill and a high level of fitness to run skinny tires and no suspension along the entire Iceman course, you were obviously on mountain bike tires yourself! Val earned 2nd in her age group, behind only the women's amateur race overall winner, and was 4th overall amateur woman across the finish line!
We had 8 juniors race in the full Iceman, plus another 3 in the Slush Cup. Ryan Miller was in a hard fought battle at the front of the Junior Men's 15-16 group, eventually earning a 4th place finish. Further back in that group it was "All for one and one for all" as Max Jordan, Jake Auclair and Peter "P3" Worden III worked together to finish what was the first full Iceman race for each. Despite a dearth of miles this season and his pre-race insistence that he was woefully out of shape, once the gun went off at the start line something clicked in Max and he wound up leading the other two much of the way; he even outsprinted another junior rider at the finish!
Meanwhile, Garrett Jenema was in the hunt for a win in the Junior Men's 17-18 group, only to experience a heartbreaking chain break with 2k to go. He still managed to finish in 6th place, though!
Arielle Jean and Jorja Jenema held down the fort in the Junior Women's races, with Arielle claiming 1st in her age category and Jorja a 4th place finish in hers.
Over in the Slush Cup, Katie Campbell and Riley Jenema represented Hagerty at the women's races, with Katie winning 1st in her age group. Meanwhile in the men's race, Griffin "the Griffinator" Schwab fought his way to a 2nd place AG finish.
Beth Collins, Barb Beauregard and Sandra Dunn proved once again that the Lady Hags Masters will accept nothing less than Complete World Domination – Beth claiming 1st in her age group, and Barb and Sandra earning 2nd and 4th respectively in theirs.
After the race we asked all 58 racers to tell us either what they liked about the race, or what they didn't like about the race. No one reported any dislikes; actually several teammates advised they did not understand the question. Almost everyone who responded reported that what they liked best was all the support they got from spectators who were camping in the woods along the race or lining up along both sides of the barriers at the finish. Regardless of how they finished, all our racers came away knowing they had the support of our awesome local bike community. "Best fans ever," was Susan Vigland's phrase; another racer said his Strava title should have been "Joyance," because that best described how he felt about the race afterward.
What a great end to the 2018 season!