Junior Spotlight: Griffin Schwab!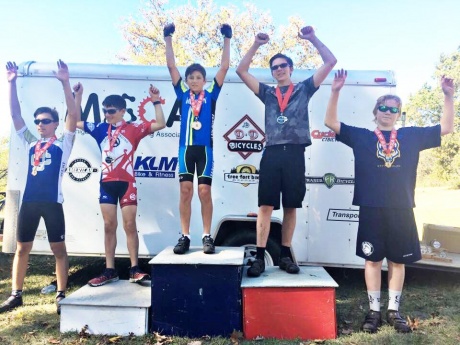 Griffin Schwab always has a smile on his face! If he's not on his mountain bike, he's riding his dirt bike and seeing how big of a jump he can do. He is very mechanical and knows how to make repairs or do maintenance on his bikes.
He also loves working with his Dad and operates the skid steer.
Although he is working on his endurance in biking, he loves riding over rocks, up stairs, doing a wheelie and anything technical. And his favorite rides are with his buddies on the team!
Here are Griffin's thoughts on his 2017-2018 season:
"-something that challenged me:
MTB Nationals
-who is my favorite training buddy:
kids close to my age, but I'll go with my mom
(did we mention Griffin is pretty darn smart?)
-most proud moment:
being 1st overall in a MISCA race, and getting down rock gardens at Nationals
-what was my favorite race:
MTB Nationals
-goal for this year:
doing better at nationals, winning the slush cup
-teammates I'm thankful for:
I had tons of fun with all the junior boys at the iceman!"
Griffin we are thrilled to watch you race this year!