A Tale of Three Races
This past weekend saw Hagerty Cycling competing in no fewer than three separate races in two states, not including Braiden Voss at USA Cycling Nationals which will shortly be the subject of its own recap.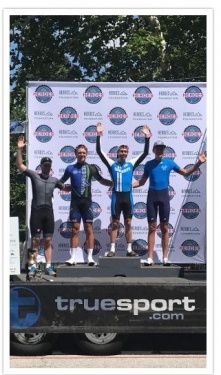 First up: Aaron Mahoney (left) WON the Cat 4/5 Heroes Crit and Fit Day in Pendleton, Indiana on Sunday! The race stayed together until 10 laps to go when Aaron attacked and stayed off the front until 2 laps to go when a couple riders bridged up to him. They worked together to stay away, and it came down to a sprint in the last 50 meters. Aaron came around the race leader by a bike length to take the win! Congrats, Aaron Mahoney!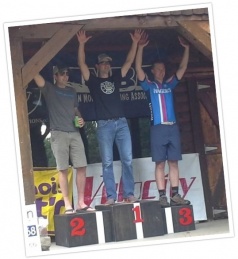 Next, Bryan Carps (right) came in 3rd in the men's expert 30-39 age group at the MMBA CPS Big M mountain bike race! Everyone who knows Bryan understands he is not that keen on technical single track but he felt he had to give it a go after sitting out last weekends Traverse City Trails Fest. After a strong start in 4th he had to cede some ground in some more technical areas, but he was able to claw his way back into 4th and eventually reeled in 3rd place on the big hill. After that Bryan brought it home on a fast flowing section, finishing "in the money" for the first time in his race career!
And then there was the Divide. A gravel event held in the Amish country around Manton, Michigan, this race is no joke -- the course goes continually up and down, beginning at the start line, and while most of the course is -- atypically for northwestern Michigan -- honest to goodness hard packed gravel favoring 'cross bikes there are just enough sand pits to challenge anyone's technical skills. The event is typically low key but it attracts a large contingent of down state gravel racing fiends looking for a fix between the spring and fall gravel seasons, making it one of the few "local" events where you will find more down state teams than local teams; this year it was included as part of the Michigan Gravel Race Series
Kudos to race organizers Jeff Harding and his partner in crime Don Passenger, who have organized the Divide as a fundraiser for the Manton cross country team where Jeff is the head coach. Many thanks to their sponsors McLain Cycle & Fitness and ERG Energy Bars for supporting this great event!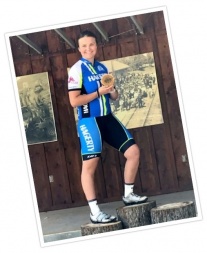 So at the Divide, this happened: Hagerty junior Katie Campbell (left) came in 1st in her age group in the 19 mile race!
And, unfortunately this also happened: Dave Bucholtz (right)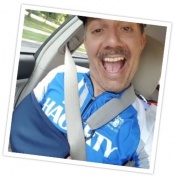 had a bad crash during the 50 mile race. He had to do a field repair on a bent derailleur hanger before resuming his race, which despite an injured shoulder he was able to not only finish but he got 4th in his age group without losing his placing or his time from the same event last year! After the race was over he was off to the emergency room where fortunately they found no broken bones. Dave swears that they gave him ZERO pain pills and that he was merely demonstrating his normal embullient personality for his mom who follows him on Facebook.
Rob Goepfrich got 5th in his age group in the 34 mile race and then went home to mow his lawn. Dave Millar battled a highly combative drive train the entire 34 miles to claim 7th AG. Peter Worden was coming off a 100 mile solo ride the day before and came in dead last in his AG, but claimed double miles in our juniors versus board summer miles contest AND he got cheered by an entire hillside of Amish schoolchildren which seriously has never happened to him before.