Cherry Roubaix Recap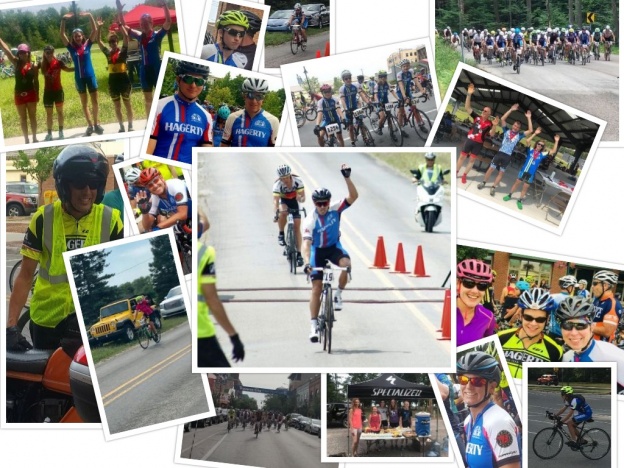 The 10th running of the Cherry-Roubax was last Saturday and this event has gone through quite an evolution over the years, starting out as a USA Cycling-sanctioned criterium in Traverse City's Old Towne, then spending a few years as an Omnium competition and the State of Michigan's Road Racing Championship event before finally settling into its current format: a Grand Fondo event starting in downtown Traverse City and winding through scenic Leelanau County before ending in Suttons Bay. Offering 20, 40, 60 and 90 mile routes, the timed event can be ridden as a race or it can be ridden as a tour – either way the rider will be treated to some of northwest Michigan's finest scenery and, on the longer routes, some of the state's toughest climbs.
For the more competitive local racers Cherry-Roubaix is the biggest road bike event of the year, not only is it right in our back yard but it draws in top racing talent from all over the Midwest. It's our chance to show the country what great road cycling we have in northwest Michigan and to compete against some of the best.
Saturday's event did not disappoint for the as-always beautiful scenery, legendary climbs, and stiff competition – but it is probably going to be most remembered for its relentless HEAT. The "official" high temperature was 93 degrees Fahrenheit, but out on the race course it felt like it easily pushed into the triple digits. Tour riders could at least look forward to the frequent and well-stocked oases of the rest stops, but the hard-core racers faced a significant challenge in staying hydrated and avoiding the dreaded muscle cramps without stopping.
All riders on all distances pushed out of downtown Traverse City at 10 am, and were escorted in a neutral rollout up to Cherry Bend Road where the starting horns blared and the gloves came off.
Hagerty's Bridgett Woodrig, Andy Weir, and Braiden Voss participated in the 90 mile race which almost immediately settled into a never-ending pattern of attack, chase, and counter-attack. The lead group largely stayed together until the major climbs, at which point the serious whittling began in earnest. First up Trumbull, then Hlvaka, riders came off the back of the group like icebergs calving off a glacier. Bridgett and Andy were separated from the lead group on Hlvaka but they continued to work hard, with Bridgett eventually claiming 2nd place overall!
BasemediaRacing's Alex TenElshof attacked over the top of Trumbull, bridging up to a 2-man break and then launching his own solo attack for 15 miles. The rest of the group fairly exploded on the Alpers Road climb, shedding a number of riders and settling into two chase groups. The first chase group was eventually reeled in the break, only to see Alex try yet another solo attack which survived until Otto Road where he was caught again with only 4 miles left to go!
At that point it was a battle among those who were left in the first chase group and one of those racers was none other than our very own Braiden Voss! There was considerable doubt on whether Braiden would even race at Cherry Roubaix since he only just returned from racing at the U.S. Cycling Amateur Road National Championships, but he not only raced his legs were obviously on fire! Braiden was able to play his cards well in the last 4 miles and claimed 4th place overall!
The majority of the Hagerty team focused on the 60 mile race, with Val Hyrman, Stephen Andriese, Hal Bevier, Bryan Carps, Rob Goepfrich, Dan Hofstra, Garrett Jenema, Austin Johnson, Ed Johnson, Norm Licht, Aaron Mahoney, Max Meyer, Paul Olson, Kyle Siemer, Brent Wiersema, and Josh Zelinski all taking part. The Blue Train was pretty much all over the front of this race all day long, turning the screws and keeping the pace high especially on the climbs and keeping any sustainable break from forming.
Much like the 90 mile race the 60 mile group gradually was whittled down, from almost 200 at the start to a group of 12 or so at the end. Hagerty's Aaron Mahoney attacked on Otto, and another rider bridged up to him; Aaron won the resulting two-man sprint and claimed 1st overall! The rest of the group came in in a bunch sprint, with Austin Johnson claiming 3rd and Josh Zelinski – who had done a lot of work at the front of the group all day – coming in 5th. Brent Wiersema came in 9th and Garrett Jenema was just barely out of the top 10 at 12th place.
And not to be outdone, Val Hyrman claimed 2nd place in the 60 mile race!
Another heavy contingent of Hagerty racers populated the 40 mile race: Emma Schwab, winner of the women's race!; Jennifer Brown, 5th place overall; Abigail Jean, 6th place overall and 3rd place age group; Marci Bultemeier, 9th overall and 1st place AG; Shelly Johnson IN HER FIRST RACE EVER!!! killing it in 15th place overall; and Jody Hofstra and Danielle Rearick also racing. And for the men: Chris Klau, who came in 3rd place overall; Sean Brownell, in 4th place; Larry Brownell, making the top 10 a family affair in 9th place overall; Rick Bielewicz, just barely out of the top ten in 11th; Jimmy Argyle, Ashton Edson, and Ayden Shore.
Finally, over in the 20 mile race, junior Jake Auclair who literally rode a road bike for the first time less than a week before came in 2nd! Maximus Jordan also put in a stellar ride, coming in 4th! Griffin Schwab was in the lead on the road but made a heartbreaking wrong turn on course; but still managed to come in 11th overall!
A special shout-out to our Hagerty Juniors who participated: Braiden Voss, Garrett Jenema, Max Meyer, Ayden Shore, Ashton Edson, Emma Schwab, Abigail Jean, Jake Auclair, Maximus Jordan, and Griffin Schwab!
Congrats to all the racers and riders, and kudos to Bob McLain, Tim Barrons and the small army of volunteers who contributed to make the 2018 edition of Cherry-Roubaix such an awesome event!