Braiden Voss:
The Interview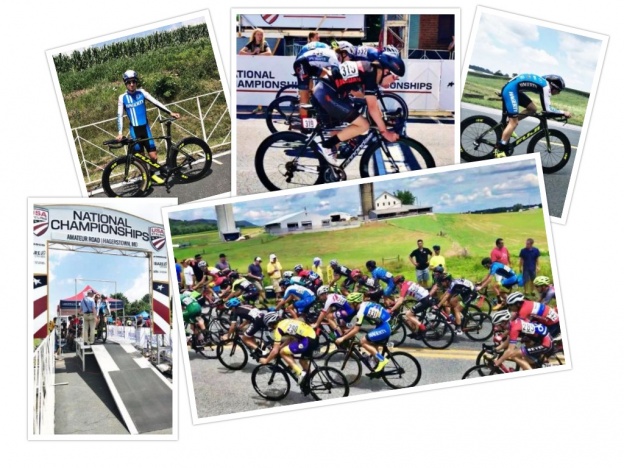 A few short weeks ago Hagerty Cycling Junior Braiden Voss attended the USA Cycling National Amateur Road Championships in Hagerstown, Maryland. Over the course of three days he competed in three events: a time trial, a road race, and a criterium.
The time trial was held first and it was especially challenging not only because it was Braiden's first race, but also because he'd never done a time trial before! Not even having a time trial – specific bike, Braiden was fortunate enough to have a family friend who lent him this special type of bike and another friend who fit him and gave him pointers on how to position himself and ride it. Despite his relative inexperience in the time trial discipline Braiden finished 16th out of 60 racers in his age category!
Next up was the road race, which was actually delayed due to bad weather but once it went off it was one of the toughest road races of Braiden's career: 38 miles and 2500 feet of climbing, and an average speed of 25mph! Some of the descents had them going 47 mph. Braiden was able to put himself into a three man break for several miles but it got caught with just a few miles to go, so it came down to a field sprint where he finished 8th overall out of 65!!!!
Finally the criterium was simply spectacular as the racers averaged 27.3mph through the sweet city streets of Hagerstown MD!!! After several attempts of breaks they were all reeled back in by the peloton with a final field sprint!!! Braiden was 6th of 69!!! It was incredible 3rd-6th being a photo finish!!!
Recently we were able to catch up with Braiden long enough to sit down with him and talk to him about his experience at Road Nationals and what he has coming up next (he's a pretty fast dude so it took us a while to catch up with him!) Here's what he had to say:
1. Why did you go to the USA Cycling Amateur Road Championships?
I went to Amateur Road National Championships this year because of the decision I made over the winter that I wanted to put all of my focus into cycling. I chose not to play basketball this winter as I usually have and instead spent a lot of time inside on the trainer doing zwift races and workouts. With all of the training I had been doing I wanted to see how I ranked nationally against kids my age and the nationals provided just that.
2. You did a time trial, a road race, and a criterium! Which was your favorite of the three?
Out of the three races I took part in at nationals (TT, road race, crit) my favorite was the road race. The course was very fast but still had a good amount of elevation and I enjoyed putting together tactics throughout the race. With 2k to go in the road race I was pushed off the road twice by another rider. I was able to stay on two wheels, get myself back on the road, and catch the main group in time to put myself in contention for the field sprint. I finished 8th overall and very much enjoyed the race.
3. The Nationals were only open to Category 3 road racers and up. At the start of the summer you were still a Cat 4. What did you have to do to get yourself upgraded in time for nationals?
To get my upgrade points I needed to show my commitment and growth to the USA cycling officials. So we planned as many races that I could fit in before nationals. In the early spring I took multiple trips to Ann Arbor to participate in criteriums to earn me upgrade points. I also took a trip to Iowa and raced 3 of some of the biggest crits in the country. I also went to the USA Talent ID camp in South Carolina to earn more points.
4. We hear Larry Warbasse gave you some advice about nationals -- what was it?
The century (100 mile ride) I got to do with Larry Warbasse was a top highlight of my cycling experiences. He is so full of knowledge of the sport and it was great to be able to ask him so many questions. He gave me advice about nutrition during the race and tactics to use as well.
5. What is the one thing you think you did really well during any of your races?
One thing I think I did well during nationals was being sure to put myself in a good position for the sprint finish. With so many strong riders still in such a big group at the end I found the most important thing to have a chance in the sprint was to be able to put myself up front and behind a rider who I knew would be a strong sprinter. I did this in both the road race and crit which helped me with my top ten finishes in both events.
6. What is the one thing you think you could have done better?
One thing I think I could have done better was being more careful about burning energy when it was unnecessary. During the road race I tried to go on an attack and I used a lot of energy doing so. As our attack was quickly reeled in I had just wasted a lot of energy that could have been used for the sprint.
7. What did you like best about the Nationals?
My favorite thing about nationals was all the experience I was able to gain from it. Racing with 70 of the fastest kids in the country made it quick to pick up on a lot of great experience in the sport.
8. And in two weeks you're off to The Miller School of Albemarle in Charlottsville, Virginia! Why did you pick that school? And tell us how you plan to continue your cycling adventures while there!
I chose the Miller School of Albemarle because of their USA cycling program at the school as well as their hands on approach to learning. At MSA they want to provide a thorough education to students who are also trying to pursue their passion. Throughout the year I get to spend time with 20+ elite junior cyclists in both road and mountain bike. The school is known for its incredible cycling program and it provides so many opportunities for me as my cycling career continues. My first week at school we head up to northern Vermont for the Green Mountain Stage Race where I will compete in four events with my team at school. The school offers many more opportunities like this throughout the year along with professional coaching/training to fully prepare me to take cycling to the next level.
9. If you could go back in time 3-5 years and give the younger you some advice about cycling, what would it be?
I would remind myself to always enjoy the sport and make sure that I keep it fun. And also to be patient with my growth in cycling and that as long as I keep working hard then the growth will follow.
10. What's your favorite color?
My favorite color is yellow. I have no idea what inspired my choice but it's been my favorite as long as I can remember.
[Ed. Note: Yes, he said "yellow." Yes, we got goose bumps too!]
11. Name you historical figure, and tell us why he or she is your favorite.
My favorite historical figure would probably be Theodore Roosevelt. Because of his outgoing personality and love of the outdoors.
[Ed. Note: TR rocks! To learn more about this amazing man and his incredible life we highly recommend The River of Doubt: Theodore Roosevelt's Darkest Journey, by Candice Miller, which details his post-presidential exploration of a previously unexplored river in Brazil. The group almost starved, TR almost died, and one member of the expedition actually was murdered. It's a little-known story told extraordinarily well. Available at Amazon.com!)